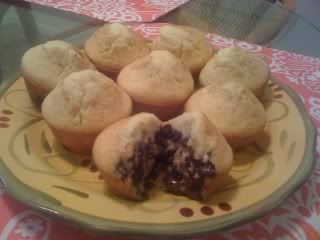 I absolutely adore muffins. They might be one of my favorite foods ever lol. As much as I love using my stand mixer and hand mixer, sometimes it's nice to go back to a simple bowl, whisk and spatula. And that's why I love making muffins. Simple to make and there's no need to pull out the heavy equipment(less to clean up too!). Here's a chocolate chip muffin recipe that I made this morning.
Ingredients:
1/2 cup unsalted butter, melted and cooled
2 large eggs
1 cup milk
1 1/2 teaspoons pure vanilla extract
2 cups all-purpose flour
2/3 cup granulated white sugar 
1 tablespoon baking powder
1/2 teaspoon salt
1 cup chocolate chips(I used semi-sweet jumbo chips)
Topping:
1 tablespoon granulated white sugar
1/2 teaspoon ground cinnamon
Preheat oven to 375 degrees
In a large bowl, whisk together eggs, milk, and vanilla extract
In another large bowl whisk together flour, sugar, baking powder and salt.
Stir in the chocolate chips
With a rubber spatula, fold the wet ingredients, along with the melted butter, into the dry ingredients and stir only until the ingredients are combined. Do Not over mix the batter!
Evenly fill buttered or paper lined muffin cups 2/3 full.
In a small bowl combine the topping ingredients and sprinkle over each muffin.
Bake for 18-20 minutes or until a toothpick inserted comes out clean.
Transfer to a wire rack and let cool for about 5 minutes before removing from pan. 
Yields 12 muffins.
Enjoy! :)
-Kristen Brooke