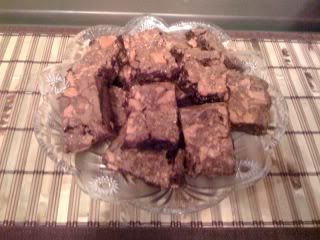 I didn't know I could fall in love with a food as much as I've fallen in love with these Butterfinger Brownies. 1. It's two of my favorite things together, Butterfinger candies and brownie. 2. They are so rich that honestly 1 square can satisfy me, which is a big help to my waist line haha. But honestly, these are just magnificent. I got the recipe from this site, Recipe Girl and I could kiss the ground she walks on for introducing me to these! 
Ingredients:
4 oz unsweetened chocolate(I use Bakers squares)
1/2 cup butter, softened
1/2 cup creamy peanut butter
2 cups light brown sugar
4 large eggs
2 teaspoons vanilla extract
1 cup all-purpose flour
Butterfinger candy bars, chopped in chunks (I use 2 bags of the Butterfinger minis that are individually wrapped)  
Preheat oven to 325 degrees. Line a 9x13in pan with foil and grease the foil.
Melt chocolate in a microwave safe bowl giving it short bursts of 30 seconds, stirring after each burst. Remove from microwave when smooth and set aside to cool. 
In a large mixing bowl mix butter, peanut butter and brown sugar with an electric mixer.
Beat in eggs and vanilla. 
Mix in chocolate.
Blend in flour.
Stir in Butterfingers reserving about 3/4 cup for the top.
Spread batter into the prepared pan and top with remaining Butterfingers.
Bake 25-35 minutes. Brownies are done when a toothpick inserted in the middle comes out clean. Let cool completely.
Refrigerate until brownies are well chilled(cover with plastic wrap if chilling over night).
When ready to cut, remove from refrigerator and turn onto cutting board. Carefully remove foil and using another cutting board, flip brownies back over. Use a large sharp knife to cut into squares. 
Enjoy! :)
-Kristen Brooke