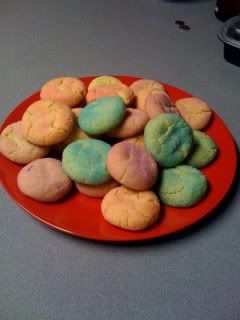 This is actually something I like to make a lot. Perhaps because it's a really simple recipe lol. I prefer a thicker cookie and these bake extremely well that way. A yummy variation to this recipe that I like to make is chocolate sugar cookies. I just add about 1 tbs of cocoa powder to the mix. It's also fun to add a little color to the cookies which I'll tell how to do as well. These remind me of easter eggs so I think these would be fun to have at any Easter brunch. :)
Ingredients:
1/2 cup butter, softened 
1/2 cup shortening
1 cup sugar
1 egg
1 tsp vanilla extract
2 1/4 cups all-purpose flour
1/2 tsp baking powder
1/2 tsp baking soda
2 tbsp milk
*1 stick of butter flavored Crisco shortening can be used in place of the butter and shortening. This is what I used.*
Pre-heat oven to 350 degrees
In a mixing bowl cream butter, shortening and sugar until creamy.
Add egg, vanilla and milk. Mix well.
In a separate bowl combine flour, baking powder and baking soda. 
Gradually add flour mix to the creamed mixture. 
Mix until you get a nice dough.
Shape into 1 inch balls.(It helps if your hands are slightly floured as it keeps the dough from sticking.) 
Roll cookie balls in sugar and place on a greased baking sheet or parchment paper.
Bake for 7-9 minutes for a soft cookie or 10-12 for a crisp cookie. 
 *To get colored cookies put some sugar in a ziploc bag and add a drop of food coloring down the side of the bag. Seal bag closed and shake until sugar has changed color.*
Enjoy! :)
-Kristen Brooke